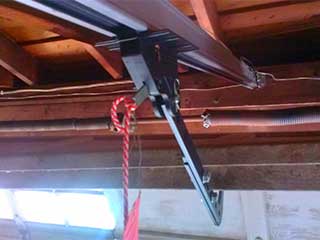 Power outages can be very frustrating. They usually happen unexpectedly and can be particularly prevalent during electrical storms. Being without electricity even for a short amount of time can be extremely inconvenient and annoying, especially when a power outage immobilizes your garage door and prevents you from entering or leaving your home. There are, however, some ways to deal with this pesky situation.
Find the Emergency Release Cord
Almost all modern garage door openers come with an emergency release cord. It's usually a red cord that dangles from your opener's rail. With a simple tug, it will allow you to disengage your door from the opener and manually open it. It's then just a simple matter of waiting for the power to return.
If You're Not Going Anywhere, Pull the Plug
Power surges can fry electrical circuitry. If the power keeps going out and returning repeatedly, these surges can wreak havoc with all sorts of electrical appliances, your garage door opener included. If you are at home when the power goes out, it's a good idea to unplug your opener until you're certain the power has returned for good. By doing this you will most certainly avoid any annoying and potentially dangerous problems resulting from power surges.
A Better Alternative
Garage door technology is constantly evolving. One of the best ways to deal with a power outage is to install a backup battery system for your garage door opener. Depending on the capacity of the battery, this can supply your opener with enough energy to operate your door for a few, or even several, hours. It's better to have a backup power battery and not need it, than need it and not have it.
Be Careful and Aware
It can be scary to return home to total darkness, especially if you have to leave the safety of your car in order to manually operate your door. Be sure to take special care if you find yourself in this type of scenario. Garage doors can be incredibly heavy and operating them manually should only be done when absolutely necessary; during an emergency, for example. Caution is key here, and for safety and security reasons, it's a good idea to consider getting a backup battery system.
Contact our experts at Garage Door Repair Highland today to get one installed.