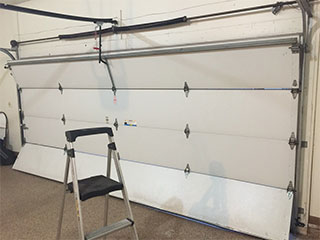 Did you know that your garage door is the largest moving system in your house? It consists of over 300 components and our job is to take care of them professionally. One of the services we offer is a complete maintenance routine, to be performed on a regular basis. This can have a great positive impact on your system's longevity, as well as help ensure its smooth and safe operation.
Covering All Types of Doors, Springs and Openers
Whether you have a traditional steel garage door or a wooden one, we'll keep the panels in excellent shape. Wooden panels, in particular, requires a close inspection for decay and water damage to be performed, and timely repairs to be rendered in case of a problem. Our specialists have extensive experience in fixing even seriously damaged doors. Count on us to take equally good care of the springs, whichever type you have, torsion or extension. We specialize in both the latest and most advanced openers available, as well as the oldest ones still in use.
Meticulous Inspection, Testing and More
It all begins with a careful check of all of your system's components, from the bottom seal to the motor. We evaluate the closing and opening of the door to determine if the spring's tension and/or the opener's travel and force limits should be changed. You can rely on us for the most accurate adjustment if one proves to be necessary. One of our most important tasks is testing the opener sensors to confirm that they are working properly. These are the parts of your system that prevent it from closing while something, object or person, gets in its path, so the importance of ensuring their functionality is quite obvious.
What If We Find a Problem

?

Should our team identify something wrong with your automatic door, you can rest assured we'll deal with them right away. Our technicians are experts in repairing bent tracks and poorly performing openers. If we find worn or damaged parts, we'll replace them without wasting time.

Our Garage Door Repair Highland experts are here to take over all of your maintenance needs. Get in touch with us now!
But wait, there's more! We also offer:
Garage Door Safety Inspections
Opener Sensor Repair & Replacement
Extension Spring Adjustment
Broken Garage Door Track Repair