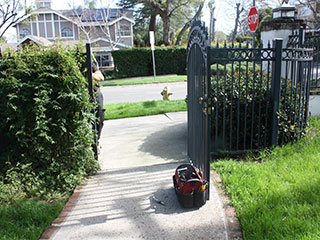 Our garage door repair company also offers repair expertise for all kinds of residential or commercial gates. If your front gate is faulty or broken, we can fix it and return it to fine working order. Whether you have a swing gate or sliding design, we have experience fixing all styles and brands. If you want to ensure that your gate is ready for years to come, make sure to use our professional gate repair technicians.
Expertise You Can Rely On
We can handle welding, gate installation, automatic gate repair and more. Fix your gate today in order to avoid having to open and close it manually each day. If a gate is very large, repairs can be very dangerous. Welding in particular is a technique that should only ever be undertaken by someone with significant training and experience. We can send one of our team members to come and assess your situation in order to locate the issue accurately. Installation of gate openers or brand new gates can also be a very challenging without help. We know exactly how to approach all forms of installation and repairs as safely and effectively as possible.
Rapid Gate Repair
If you want your gate fixed right away, we can offer fast response times and timely work for customers within our local area. Our staff keeps all parts and equipment with them at all times to ensure that we can help with a wide range of issues on the spot. If you're looking for professional help with your gate, contact our helpful team today to arrange a booking. Take advantage of our years of experience in all kinds of gate repair and avoid the risk of causing serious harm to yourself or property. Get in touch now for a more information!
Give our team a call if you need help with:
Sliding Gate Operator Repair
Gate Exit Sensor Installation
Program Doorking Intercom